Station/Railway Information
Station Numbering System
About Station Numbering
Route symbols and station numbers are provided to enable everyone to see where to change and alight trains. Multiple station numbers are displayed at junctions requiring transfers in consideration of the carriage operating system.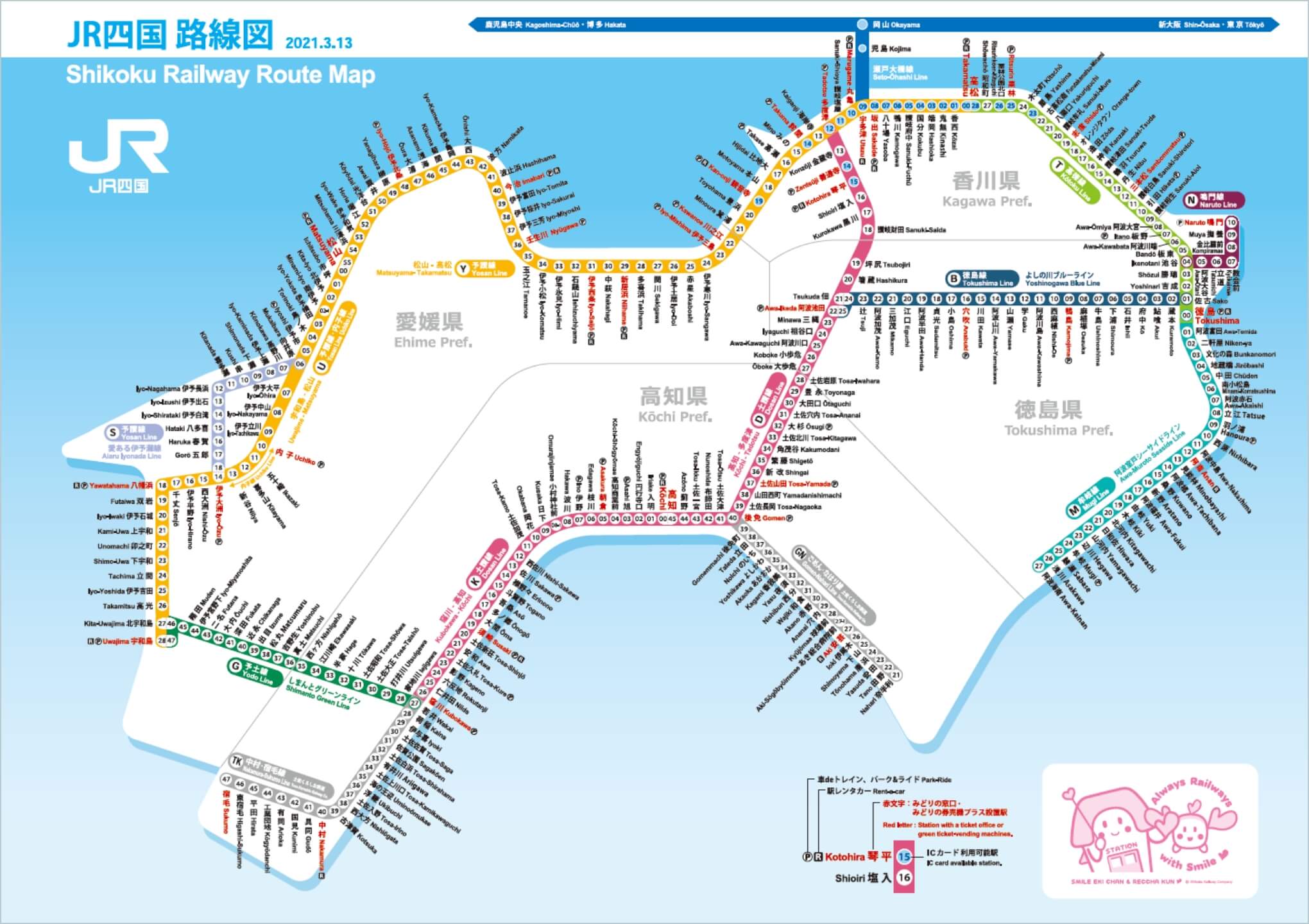 Numbered stations (298 stations)
JR Shikoku: 257 stations (excluding two temporary stations, Tsushimanomiya and Tainohama), Tosa Kuroshio Railway: 41 stations.
Station number configuration
Sorted by alphabetic symbols for each track color. Each one is composed of an alphabetic symbol and two-digit numbers.
Display locations
Station name plaques on platforms, free pocket-size timetables, etc.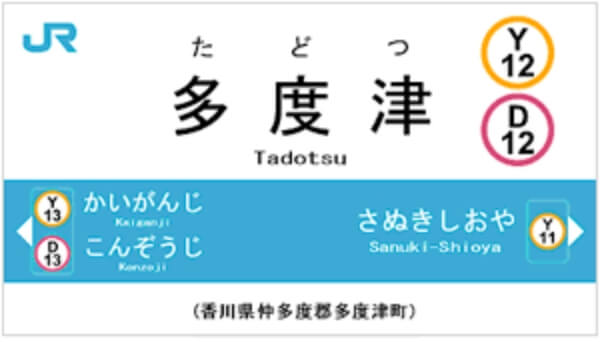 Station name plaques on platforms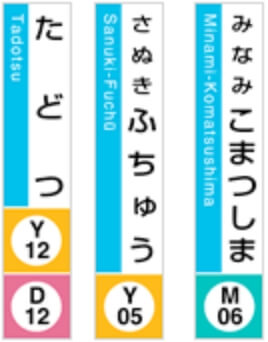 Station name plaques on pillars
Track sections and symbols
路線区分
路線記号
Yosan Line (Takamatsu ~ Matsuyama)

Y

Yosan
Yosan Line via Uchiko (Matsuyama ~ Uwajima) / Uchiko Line

U

Uchiko,Uwajima
Yosan Line via Shimonada (Mukaibara ~Iyo-Ōzu)
"Aiaru Iyonada Line"

S

Shimonada,Seaside
Dosan Line (Tadotsu ~ Kōchi)

D

Dosan
Dosan Line (Kōchi~Kubokawa)

K

Kōchi,Kubokawa
Mugi Line (Tokushima~Awa-Kainan)
"Awa-Muroto Seaside Line"

M

Mugi,Muroto
Tokushima Line (Awa-Ikeda~Sako)
"Yoshinogawa Blue Line"

B

Blue
Naruto Line (Naruto~Ikenotani)

N

Naruto
Yodo Line (Uwajima~Wakai)
"Shimanto Green Line"

G

Green
Kōtoku Line (Takamatsu~Tokushima)

T

Takamatsu,Tokushima
Tosa Kuroshio Railway
"Gomen/Nahari Line"

GN

Gomen-Nahari
Tosa Kuroshio Railway
"Nakamura Line/Sukumo Line"

TK

Tosa Kuroshio